If someone says the word "cactus," what do you think of? Deserts? Heat? Stark, sandy landscapes? Ohio probably never crossed your mind, and why should it? There's no cacti in Ohio...right? If you thought that, you'll probably be very surprised to learn that Ohio does indeed have a species of native cactus.
Opuntia humifusa
, pictured above. It can be found in the Oak Openings region of northwest Ohio and in certain places in southern Ohio. The Eastern Prickly Pear prefers dry, sandy soils and full sunlight exposure. This is why it can be found at the sandy Oak Openings. The Oak Openings region is essentially left-over beaches (hence all the sand) from a long-gone lake called Lake Warren. It's a different story along the Ohio River though. The Eastern Prickly Pear makes its home here in the very rare Ohio River sand terrace habitat.
Cut Bank
. A cut bank is essentially just a very steep bank. Now, on the side opposite of the cut bank is what is called the
Point Bar
. While cut banks are formed through erosional processes, point bars are formed through depositional processes. When the water hits the cut bank, it erodes particles of soil and rock. The water then essentially ricochets off the cut bank toward the opposite side of the river. By this point it has lost some momentum, and the now-slower water deposits some of the soil/rock material it had previously picked up. To see a visual representation of this process, go to
this link
. This process repeats over and over, slowly eating away at one side of the river while depositing sand on the opposite side. Eventually you get sand terraces like the one above. As you can tell by the agricultural fields, the sand terraces are flat.
Right below the top layer of plants is sand that is a result of thousands of years of buildup from river deposition.
Sadly, being flat has led to this habitat's destruction. Early settlers traveled primarily by river and lived primarily by rivers. As settlers moved westward via the Ohio River in the 1800's, they passed mile after mile of the forested Appalachian foothills. These large, steep hills were unsuited for farming. The settlers were looking for a flat area to farm, as a farm would be their main source of food and goods. When settlers came across these flat sand terraces, they decided to stop and try to set up their homestead. Now, well-drained, dry, and sandy soil isn't the best for farming, but when the alternative is to keep floating down the river for who knows how long, you take your chances. As these sand terraces were developed into farmland and small towns, the unique habitat was slowly destroyed, and with it the unique plant community that called it home. Nowadays original sand terrace habitat is rare, and as a result many of the dry, sandy-soil-loving plants are too.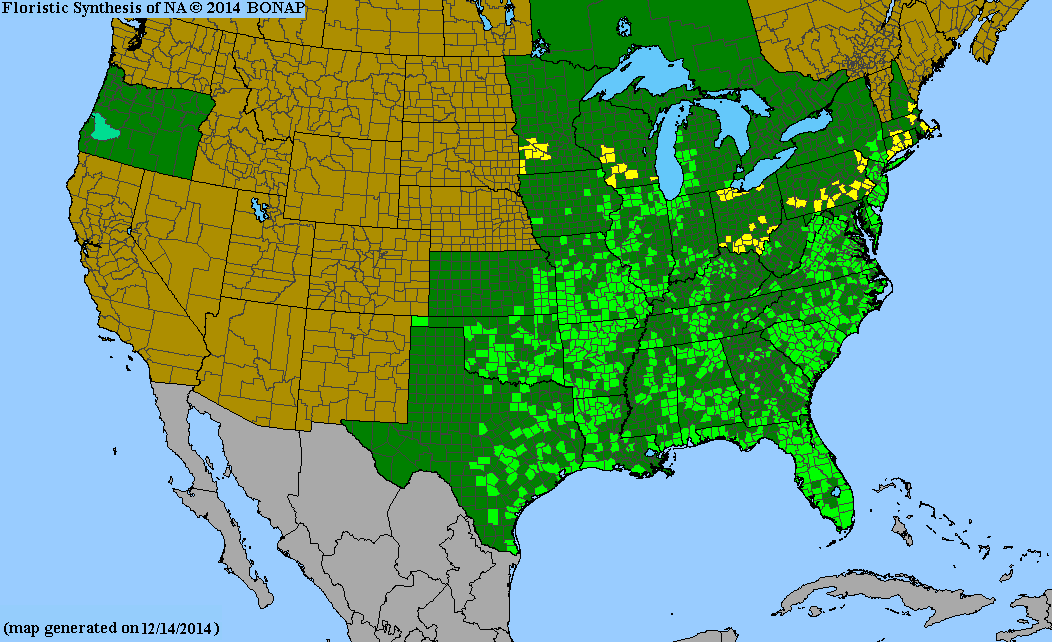 Range map courtesy of the Biota of North America Program (BONAP).
The Eastern Prickly Pear is a wide-ranging cactus found throughout much of the eastern United States. It is rare in many of its northern locations, including Ohio where it is state-listed as Potentially Threatened. One reason is the destruction of proper habitat (like the development of sand terraces). Another reason is the removal of wild plants from a wild population. People like to have these as a yard plant, and some will simply go to a wild population and transfer those plants to their yard, reducing the individuals in that population.
There are records from a total of 19 counties here in Ohio, although only 13 of those counties have records from after 1980. It appears to be disappearing from the southern counties that are away from the Ohio and Scioto Rivers, although the lack of records from the past 35+ years might simply reflect a lack of effort to keep tabs on those populations. You should look for this species in well-drained sandy soils that are exposed to sunlight.
If you look at the bottom of this photo, you can see some of the prickly pear individuals nestled among the other plants. The hills in the background are actually in Kentucky. Those hills are the cut banks from the Ohio River. The rest of the ground you see is part of the flat sand terrace.
I'm currently finishing up this summer's lab work. This upcoming Saturday I move back into the dorms at Ohio University and start classes on that Monday. I plan on trying to get out one or two more posts this week since I have a few days of "rest" before dealing with the craziness of moving in and starting classes. Thanks for reading!